Located in North-Western Ecuador in the recently less than contiguous Southern Choco zone, the rapidly disappearing biosphere of the Reserve is considered by some to be a Pleistocene refuge area. From the Los Cedros facilities, scientists have rapid access to several forest ecosystems both above and below premontane wet forest.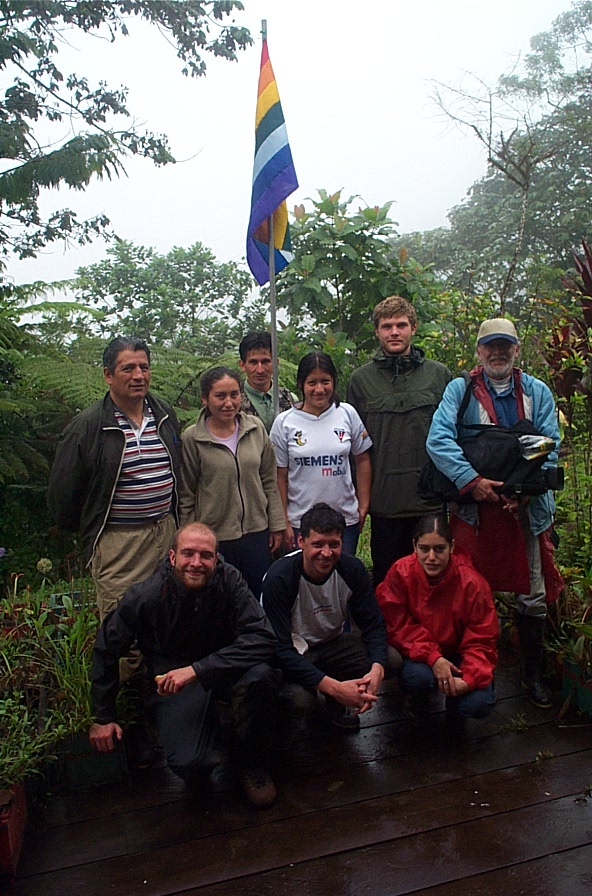 Unfortunately this area is highly endangered and little if any public outcry or professional conservationist effort has prevented the parcelling up of this rich biological resource for the benefit of agroindustrialized monoculture and lumber companies. These companies are supplying the Japanese chip board industry from one of the most diverse forest resources that has existed on the planet. A recent World Bank-financed thematic mapping program has slated the entire Cotacachi/Cayapas Ecological Reserve for future mining exploration.
Only a concerted effort to categorize and define this ecological treasure can call the attention of the Government to it's true wealth and stop the tragedy of exploiting its resource base to pay back its ill-considered external debt.
The Los Cedros project is designated a Bosque Protector under Ecuadorian environmental legislation and is owned by an Ecuadorian foundation known as Centro de Investigaciones del los Bosques Tropicales, CIBT.
Ever since the Los Cedros Reserve was founded, the principal objective of this project has been to stimulate research and community participation in the conservation of this area. It should be added that complete community supervision of the project is the eventual goal. In the interval it is considered a priority that research be conducted into the biological systems that comprise the local biosphere in order to catalogue possible resources in advance of any bioprospecting efforts. In this manner it is possible to register the future income generating potential of resources and to build a case for the conservation priority before increasing pressure from national and international mining, logging and agroindustrial interests.
Los Cedros Biological Reserve's most prominent recent research activity was the Darwin Initiative PRIMENET Project. The project aims to develop a comprehensive strategy for the critically endangered Brown-Headed Spider Monkey (Ateles fusciceps), vulnerable primates and habitats in NW Ecuador based on a programme of monitoring, education and sustainable livelihoods within local communities, where indigenous and rural communities are trained in practical field skills for primate monitoring and habitat assessment.
The project is funded by the UK government through the Darwin Initiative (DEFRA) and coordinated by the University of Sussex (UK) with core Ecuadorian partners 'Ecuador Terra Incognita', 'Corporacion Botanica Ecuadendron' and the 'Los Cedros Biological Reserve'.