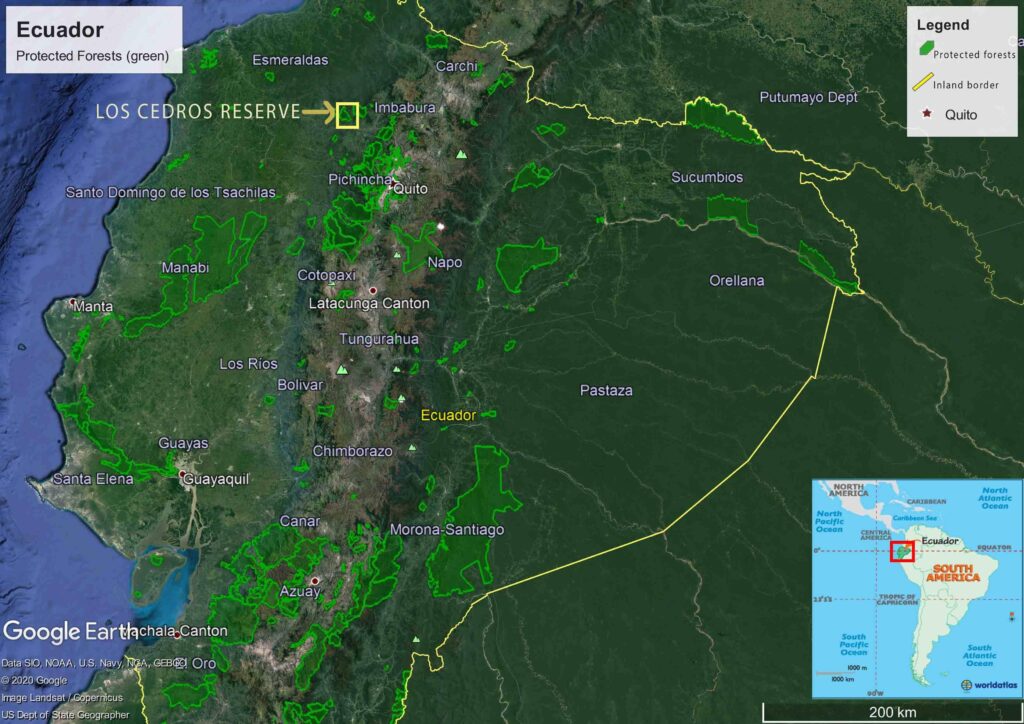 Founded in 1988, the Los Cedros Biological Reserve in north-western Ecuador covers 4800 Ha (11,861 acres) of premontane wet tropical forest and cloud forest, of which more than 4094 Ha (10,117 acres) is primary forest.
The reserve is a southern buffer zone for the 182,109 Ha (450,000 acre) Cotocachi-Cayapas Ecological Reserve, and both are part of the Choco Phytogeographical Zone, one of the most biologically diverse and endemic habitats on Earth. 
Not only does the reserve protect the forest from further deforestation, it protects the four major watersheds within it.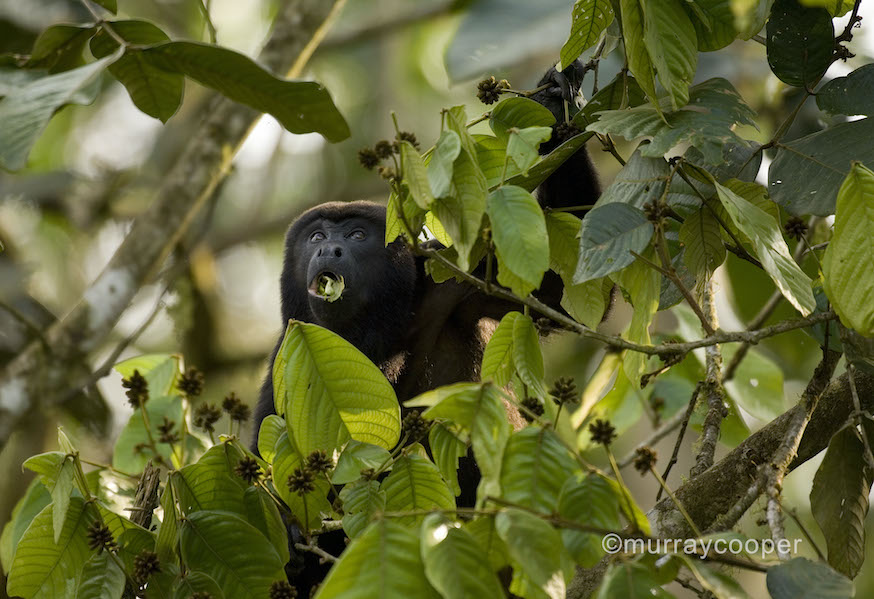 Scientists have found in Los Cedros Reserve
6 critically endangered species
40 endangered species
121 vulnerable species
75 near threatened species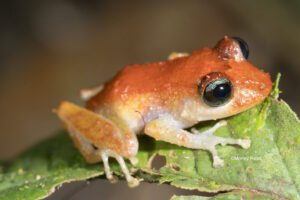 The reserve also hosts a huge diversity of rare and endangered species, such as the critically endangered Black-and-Chestnut Eagle. There are 358 currently known birds at the reserve, with more than 400 species predicted. Six species of felines roam their territories in the reserve along with primates like the endangered Ecuadorian Mantled Howler monkey (pictured above) and the critically endangered Brown-Headed Spider Monkey. There are also numerous species of invertebrates, snakes, lizards and frogs, some of which can only be found at Los Cedros.
WHY IS LOS CEDROS THREATENED?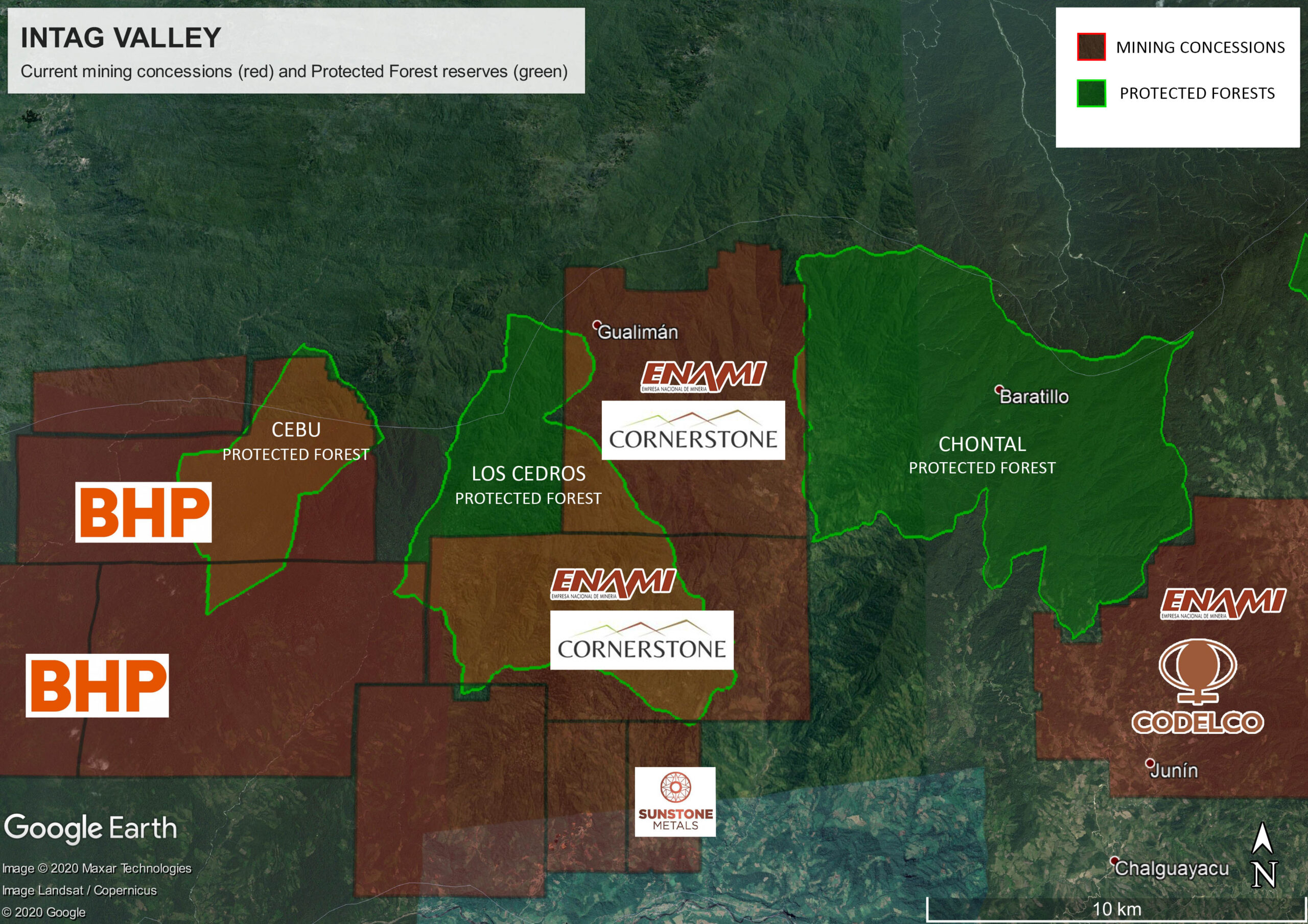 In 2017, the Ecuadorian government announced new concessions for mining exploration over 2.9 million hectares (6.18m acres) of the country, a 300% increase. Many of these concessions are in protected forests and indigenous territories, headwater ecosystems and biodiversity hotspots, in direct violation of Ecuador's Laws, including its Rights of Nature.
Canadian mining company Cornerstone Capital Resources was given a permit for gold exploration in collaboration with the Ecuadorian state mining company, ENAMI despite the Ministry of Environment's own publication citing Los Cedros in its "Areas of Priority for the Conservation of Biodiversity in Ecuador".
Mining concessions now cover 68% of Los Cedros Reserve
The Los Cedros Protected Forest won their case for an Action of Protection in the Provincial Court of Imbabura in June 2019, which stripped the mining company of their operating permits. The government has appealed against the decision.
Meanwhile the mining company Cornerstone Capital Resources continues to explore in the reserve in direct contravention of the court order, despite overwhelming opposition in the region, and without the appropriate permits.
Ecuador: Amenazado por la Minería (un video que muestra mapas de las concesiones mineras actuales y cómo interactúan con el bosque remanente a lo largo de los Andes)

Los Cedros case moves to Constitutional Court
In an unprecedented move, the Constitutional Court of Ecuador, the highest court in the land, announced it will hear arguments in the case to preserve the threatened Los Cedros Protected Forest from mining development, and apply for the first time Ecuador's constitutionally guaranteed Rights of Nature within legally titled Protected Forests.
"Ecuador was the first nation to include the Rights of Nature in its constitution," said Sir Jonathon Porritt, one of the UK's leading environmentalists, "and it could now become the first to actually protect large swathes of biodiversity based upon this constitutional innovation, and set an invaluable precedent worldwide."
If Los Cedros wins, this could set a precedent to protect 2 million other hectares of Protected Forests being threatened by mining in Ecuador, in direct violation of many of Ecuador's laws, including the Rights of Nature.
The hearing was in December 2020. Seven months later, the Constitutional Court has still not issued a ruling on the case.
LOS CEDROS NEEDS YOUR HELP
As well as extensive legal fees, we are expecting significant opposition from the mining sector who will be certain to fight any positive ruling. Funds will also support Ecuadorian grassroots campaigners to network this emblematic case across the country.
New donations up to $10,000 will be matched dollar for dollar by Paul Gilding (former CEO of Greenpeace Australia and Greenpeace International) and John Seed (founder of the Rainforest Information Centre).
Please help us reach our $50,000 target!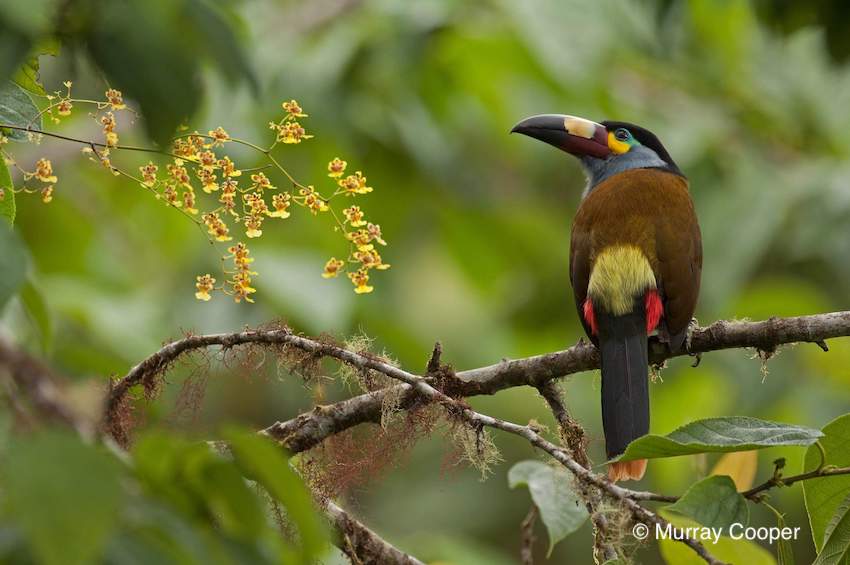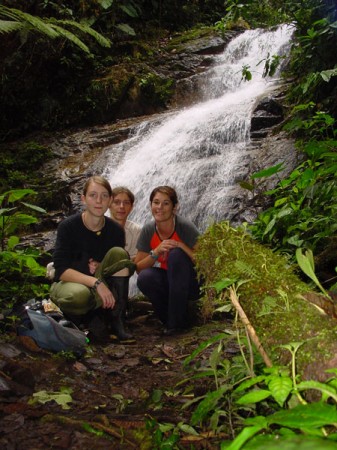 Los Cedros Biological Reserve welcomes short-term visitors, researchers, conservationists and volunteers to a remote and adventurous piece of paradise. A trip to the reserve is an extraordinary opportunity to see the nature of a cloud forest in a direct, unfiltered way. It's about as off the beaten track as you can get and yet it can be reached from Quito in only one day.
The Reserve is a non-profit organization that depends on the hard work and contributions of volunteers for its continued survival. Volunteers muck-in where they are needed and typical day-to-day tasks can include trail maintenance and development, assisting with research project work, and development of new projects.
Los Cedros has a very open philosophy and will consider any reasonable research project proposal. As well as management support, research teams can also expect to have the enthusiastic efforts of the volunteers to assist with their project work. In fact, assisting with scientific research is why many people apply to become volunteers at Los Cedros in the first place.